NNDR 2023 will be held simultaneously at Hotel Reykjavik Grand and Hilton Hotel. All keynote lectures and other plenum sessions as well as part of the parallel sessions will be held at Grand Hotel Reykjavík. In addition, parallel sessions will be held at Hilton Reyikjavík Nordica.
Hotel Reykjavík Grand is a four-star luxury hotel for guests who require superior service and excellent facilities.
This stylish hotel features everything you could need for your stay in Reykjavik, including a complimentary fitness centre, spa, non-smoking rooms, free Wi-Fi, lounges, bar, and restaurant. Lavish interiors make for a cosy and warm welcome from the outdoors, and our approachable staff members are dedicated to providing a pleasurable stay.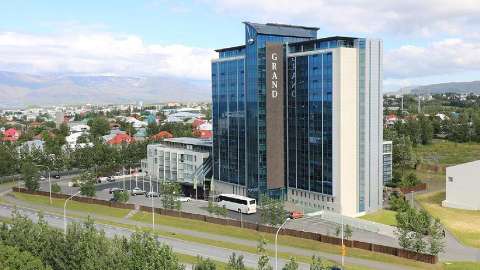 Suðurlandsbraut 2, 108 Reykjavík
Set in central Reykjavik, the stylish Hilton Reykjavik Nordica hotel is one of the city's most popular destinations for tourists, business travelers and locals alike. Enjoy Hilton style, service and quality, with the comfort and amenities you expect, and the extras you deserve.
The hotel's central location provides a great base from which to discover the capital, and makes it easy to travel further afield and explore Iceland's unspoiled natural landscapes.