NNDR 2023 will be held simultaneously at Hotel Reykjavik Grand, Hilton Hotel and ÖBÍ. All keynote lectures and other plenum sessions as well as part of the parallel sessions will be held at Grand Hotel Reykjavík. In addition, parallel sessions will be held at Hilton Reykjavík Nordica and ÖBÍ.
Click the photo for a larger version.
Hotel Reykjavík Grand is a four-star luxury hotel for guests who require superior service and excellent facilities.
This stylish hotel features everything you could need for your stay in Reykjavik, including a complimentary fitness centre, spa, non-smoking rooms, free Wi-Fi, lounges, bar, and restaurant. Lavish interiors make for a cosy and warm welcome from the outdoors, and our approachable staff members are dedicated to providing a pleasurable stay.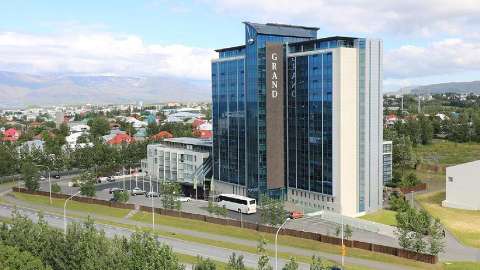 Suðurlandsbraut 2, 108 Reykjavík
Set in central Reykjavik, the stylish Hilton Reykjavik Nordica hotel is one of the city's most popular destinations for tourists, business travelers and locals alike. Enjoy Hilton style, service and quality, with the comfort and amenities you expect, and the extras you deserve.
The hotel's central location provides a great base from which to discover the capital, and makes it easy to travel further afield and explore Iceland's unspoiled natural landscapes.
The hotel is 600m away from Grand Hotel.
The entrance at Hilton Hotel is at ground level with the pavement and has both a revolving door and a regular door with a button for automatic opening. In the lobby there are 4 lifts that go up to the 2nd floor to the conference meeting rooms. There is a wheelchair accessible bathroom at the 2nd floor next to the meeting rooms hallway (photo 5 and 6)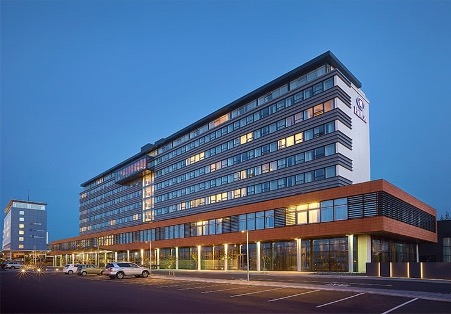 ÖBÍ - The Icelandic Disability Alliance
ÖBÍ is an umbrella organisation of 40 associations of people with disabilities in Iceland. Our member organisations all work at a national level. ÖBÍ is a non-profit organisation with no official funding from the state. ÖBÍ works towards social justice, improved quality of life in Iceland, irrespective of individuals' physical or mental competence. It is located 250m away from Grand Hotel.
The entrance is at ground level with the pavement with automatic doors (photo 7). The conference will have 2 meeting rooms at ÖBÍ – meeting room 1 is at the ground floor and meeting room 2 at the second floor. ÖBÍ has 4 wheelchair accessible bathrooms with adjustable toilets and sinks.